Indoor mold is a direct result of a moisture problem. While I have discussed various ways to remove mold and prevent mold, controlling moisture (including preventing leaks) will always have a direct impact on whether or not your home has a mold problem.
Most people have no idea what the humidity and moisture levels are indoors. During the summer humidity should fall below 60%. During the winter months humidity should fall below 40%. The lower the better as lower indoor relative humidity levels will control mold related problems. Having said that, you don't want to go too low. 25% relative humidity is considered ideal to keep a home's occupants healthy and comfortable. This is also the minimum humidity to keep wood finishes and furniture from drying out.
Humidity is generally measured in one of three ways:
Absolute humidity refers to the amount of water vapor present in a unit volume of air, usually expressed in grams per cubic meter. At 30°C (86°F), absolute humidity can range from near zero to about 30 grams per meter.
Specific humidity is the ratio of water vapor to dry air. It is equal to the mass of water vapor in the air divided by the total mass of the air parcel, including the water vapor. The value is expressed as a percentage.
Relative humidity is a measure of how much moisture is in the air at a particular temperature. The value is expressed as a percentage. The greater the % of relative humidity, the higher the moisture content of surrounding building materials and the more likely mold will grow there. Relative humidity is the term most frequently used when discussing humidity levels inside a home.
Relative Humidity and Your Home
Unless you live in an arid climate, periods of high humidity create a myriad of problems for structures and people. Signs of high humidity include:
A musty odor in your home, and/or basement and crawl space
Visible mold growth in your home, basement, and/or crawl space
Cupped wood floors
Feeling "sticky" or "muggy"
Visible condensation
Water stains
Peeling wallpaper/blistering paint
Weeping walls
Damp fabric that doesn't air dry
Moisture in indoor plant soil several days after watering
So What Can Be Done To Monitor Indoor Relative Humidity Levels?
Hygrometers and humidity meters are instruments used to measure the amount of water vapor in gases, most often air. The amount of water vapor in air, the humidity, is an important factor in whether or not mold will grow.
Different Types Of Humidity Meters
There are various types of humidity meters. They come in different sizes, operate in different temperatures, and they detect different levels of accuracy.
There are three main types of humidity meters:
Capacitive – These humidity meters measure moisture levels using a humidity-dependent condenser. They are suitable for wide relative humidity ranges and condensation tolerance. These humidity meters are commonly used in industrial and commercial environments.
Resistive – These humidity meters can measure the electrical change in devices such as conductive polymers and treated substrates. They are suitable for use in residential and commercial environments.
Thermal Conductivity – These humidity meters are suitable for use in environments that have high temperatures. They measure humidity by calibrating the difference between the thermal conductivity of dry air and that of moist air.
Types Of Humidity Controllers For Your Home
A humidity meter measures the amount of relative humidity in your home. You still need a device that controls it. As such, a lot of humidity meters are now combined with humidity controllers to both measure and monitor the relative humidity in your indoor space. These are often all lumped together under the umbrella of hygrometer or humidity meter.
Let's take a look at the three options available.
Humidistats – Some humidity meters are built into a device with a humidistat that is part of a humidifier, dehumidifier, or wall unit. The humidity meter measures humidity and sends a signal to the humidistat, which triggers the machine to increase or decrease humidity within the enclosure where it is located.
Humidity Controllers – Of great assistance to people who cannot monitor rooms all the time are plug-in humidity controllers. These humidity meters plug into an electrical socket in your wall and provide a socket that you can, in turn, plug your humidifier or dehumidifier into. They measure from 30-90% relative humidity within a 5% variance and turn the machine on and off as needed. There is a battery inside that takes over when electricity goes out.
Wall and Wireless Humidity Meters – These are often, but not always, built into a wall unit with a thermometer (thermohygrometer), showing both temperature and humidity readings on the same dial. Wall clocks with humidity and temperature dials are also available. These can be used for a home, office, food storage area, or small greenhouse.
There are also wireless units, where the humidity meter is wall-mounted and sends its readings to a manual unit that you carry around with you.
Which Is Best? An Analog or Digital Humidity Meter?
Humidity meters come in both analog and digital models. Each has its own weaknesses and strengths. Let's discuss the two modes to help you decide which is best for you.
Digital Hygrometer
A digital hygrometer determines humidity using non-moving electric sensors. The electrical resistance of these sensors gets affected by moisture, thus displaying the current humidity level.
They usually have a high level of accuracy
Display temperature in addition to humidity
They're not visually appealing compared to analog models
Require maintenance (battery replacement)
Most models are less reliable at low humidity levels (say below 55%
Analog Hygrometer
An analog hygrometer works differently from a digital model. It employs springs which loose or tighten depending on the current humidity level.
Pros
They come with stylish, elegant looks
Premium analog models deliver higher precision measurements
Cons
They need regular tuning up to deliver accuracy
They display humidity info only
Cheap models have worse performance and look bad
A Few Important Notes About Humidity Meters
Humidity is dependent upon temperature, which is why many hygrometers come accompanied by a thermometer. Whereas humidity increases at high temperatures, water vapor condenses more quickly at lower temperatures, which especially affects the dew point type of meter.
Humidity readings can be contaminated by existing dust.
Readings can also be altered by condensation of gases other than water, since different gases condense at different.
Most handheld humidity meters will need regular calibration and cleaning in order to provide accurate measurements.
Avoid placing humidity meters in locations close to the discharge of supply air ducts, near exterior doors and windows, and inside walls that are exposed to solar radiation.
Locate humidity sensors away from heat and moisture sources.
Ensure that air flows freely around the humidity meter.
Avoid situations where water might condense on the probe – the humidity sensor will not operate correctly when wet.
What Else Can Humidity Meters Be Used For?
Besides measuring the relative indoor humidity of your home, humidity meters can be used for:
Refrigerators
Incubators
Greenhouses
Microwave ovens (e.g. the "smart cooking" selection, like for microwave popcorn)
Climate controlled warehouses
Museums (to protect art from decay)
Precision factories
Saunas
In food service applications where humidity may lead to spoilage
Warehouses and storage buildings high humidity levels can lead to mold or warping of materials or low humidity levels can lead to shrinkage
Storage of wooden musical instruments such a guitars, violins and pianos
In the coating industry because the application of paint and other coatings may be very sensitive to humidity
Terrariums
Leather storage
Humidors
Wine Cellars
Intensive Care Unit and ICU
Now That You Understand The Basics Of Indoor Humidity, Let's Take A Look At The 7 Best Humidity Meters For Any Room!
Please note that these are not listed in a specific order. Each humidity meter offers different features and capabilities and any of them would be an excellent choice. My top two favorite are listed first just in case you were wondering which ones I use and love the most.
Ambient Weather WS-10-X4 Wireless Thermo-Hygrometer
If you're interested in monitoring multiple locations within your home, including indoors and outdoors, I strongly recommend the Ambient Weather WS-10-X4 Wireless Thermo-Hygrometer.
This device includes a central indoor console, and four remote sensors, with the ability to connect up to eight sensors in total.
The temperature and humidity readings display on the console and each sensor. The console itself also includes its own sensor.
The Ambient Weather system uses a wireless signal with a limited transmission range (100 feet under most conditions), so the sensors must be within the range of that signal.
With the Ambient Weather WS-10-X4, you'll get visual and audible alarms on the main console if the temperature or humidity exceeds your pre-set maximum or minimum levels, making it easy to simultaneously and passively monitor conditions throughout your home.
The most significant downfall of this home hygrometer is the lack of a way to monitor conditions remotely and store data. However, if you're looking for the best home humidity meter to monitor multiple areas around your house and get alerts when there is a substantial change, this is a top option packed with a lot of value.
Pros
Indoor and outdoor compatible
Can connect up to eight sensors
Alerts when conditions exceed your pre-set maximum or minimum relative humidity levels
Easy-to-read display with data from all sensors on screen
Cons
No remote reporting capabilities
No way to see past data
Wireless signal has a limited range
Click HERE To Check The Current Price And Availability
Honeywell TM005X
Honeywell TM005X is a temperature and humidity monitor that allows you to gather data from inside and outside of your home. To report the outdoor values the device uses a remote transmitter that connects wirelessly to your indoor unit.
It uses two AA batteries (not included) for the inside and two AA batteries (not included) for the outside transmitter. With this device you have the option to add up to 3 additional outside sensors. Just by using the channel button, you can switch between 2 or 3 different locations around your property. The option to choose between Celsius and Fahrenheit as primary measurement unit is also available.
The Honeywell TM005x is equipped with large LCD display for reporting the current levels. For convenience a small display is integrated inside the outdoor remote unit, so there is no need to go back inside your house to check the temperature in your backyard.
With the one year warranty from Honeywell, the large LCD displays, good accuracy, and the ability to gather data from 3 different sensors, this is definitely a top choice for humidity meters for your home.
Pros
Big, easy to read display
Indoor and outdoor measurements
Can receive data forom3 different sensors
Min-max and high and low data
Affordable price
Accurate from 20% to 80%
Cons
Outside unit not waterproof
Not so accurate below 20% humidity
Uses 2 AAA batteries for both in and out sensors
Click HERE To Check The Current Price And Availability
Extech 445815 Humidity Meter with Alarm and Remote Probe
If you need a humidity gauge to measure a hard-to-reach area, the Extech 445815 humidity meter with the optional remote probe is the best option.
The Extech 445815 offers a large display showing the current humidity level, temperature, and dew point of the room or area it is in. You can set minimum and maximum humidity numbers, and receive audible and visual alerts when humidity exceeds those levels.
The most unique feature of this sensor is the remote probe, which has an 18-inch cable for measuring behind walls, in ducts, or in other areas that are difficult to access. It also includes a stand for operation on a desk or other flat surface, plus there's a bracket for wall mounting.
​The Extech is a NIST Certifiable to satisfy ISO and other regulatory body requirements for product accuracy and traceability to nationally recognized reference standards.
The humidity meter does not include any remote monitoring capabilities, and the only data storage is a recall of minimum and maximum readings. For its basic functionality, it is a bit pricier but again, you get the probes which allow you to get humidity measurements in places other humidity monitors do not.
Pros
Large, easy-to-read display
Measures temperature, humidity, and dew point
Includes alerts if humidity surpasses your pre-set levels
Stand and wall mount included
Remote probe for hard-to-reach areas
NIST Certified
Cons
Less functionality for the price
Data storage is limited to minimum and maximum readings
No remote monitoring
Click HERE To Check The Current Price And Availability
SensorPush Wireless Thermometer & Hygrometer
The SensorPush digital hygrometer is a great option for monitoring humidity conditions within your home. In ideal conditions, with no obstructions, this sensor has a 325-foot range via a Bluetooth connection. There is also an option to purchase a WiFi gateway device to get alerts from anywhere.
The SensorPush takes readings every minute and can store up to 20 days of data within the device itself. SensorPush keeps monitoring and stores the data to be retrieved once you reconnect. Unlimited data is stored in the easy-to-use SensorPush app (available for iPhone and Android devices).
This device is also flexible and versatile, with the ability to monitor an unlimited number of sensors. Each sensor can also be monitored by an unlimited number of users. Setup is easy and the sensor runs on a CR2477 coin cell battery (included), providing over a year of battery life. In addition, the Swiss-made sensing component in the SensorPush ensures reliable, accurate measurements.
Pros
More affordable price for all the bells and whistles this offers
Easy set up with battery included
Highly functional and easy-to-use app
Ability to store up to 20 days of data if disconnected from Bluetooth
High accuracy and reliability
Compact and lightweight
Cons
Price increases substantially if adding the WiFi gateway
Bluetooth range can be limited depending on where the device is located in the home
The optional WiFi gateway is an expensive and bulky accessory
Click HERE To Check The Current Price And Availability
AcuRite 00326 Home Comfort Monitor
AcuRite 00326 device provides a fast, easy, and cost effective way to monitor humidity in any location around your home This humidity meter measures current humidity, current temperature, and lowest and highest points seen during the day.
The AcuRite has a fun display with a house icon with trending arrows, which reports changes in temperature and humidity levels during the past couple of hours. The temperature section has a similar readout but with a much simpler layout.
The unit build is made of durable solid plastic with big readable numbers on a LCD display, easily viewable from multiple angles and directions. It has a large magnet on the back so you can stick it on your refrigerator.
Pros
Strong magnet for fridge mount
Big readable display
Can be set on any surface
Has an extensive humidity and temperature range
Compact size
Cons
24 hour min/max seems to have some point in the day when it resets, not truly a rolling value
Lessor degree of accuracy than other humidity meters
It cannot be calibrated
It does not have a backlight
Click HERE To Check The Current Price And Availability
ThermoPro TP50 Digital Hygrometer
This is hands down one of the best portable humidity monitors. The ThermPro TP50 has a large digital display, provides both humidity and temperature measurements, and reports the all-time high and low readings of both temperature and humidity.
The ThermPro TP50 is made to sit on a table top or can be attached to a metal surface like your refrigerator with its magnet backing. It has a kickstand option so you can place the humidity meter at any angle.
Using its highly sensitive sensor, the ThermPro has an accuracy level of +/- 3% relative humidity and +/- 1 degree F. This humidity meter also gives an indication of the comfort level in the room based on relative humidity percentages , stating it's dry <30%, comfortable 30%-60%, and wet >60%. Seeing the smiley faces will tell you immediately whether your room is OK.
Pros
Ultra-low price
Digital display
Shows comfort level
Flexible mounting options
Accuracy
Simple set up
Wireless
Takes up very little space
Cons
No audible alerts
No remote monitoring
No date or time stamp
No additional sensors
No way to adjust the measurement of this device.
​It has a slow response to the changing temperature and humidity.
​Never resets on 24 hours or after the temperature starts to go up or down.
Click HERE To Check The Current Price And Availability
AcuRite 00613 Humidity Monitor with Indoor Thermometer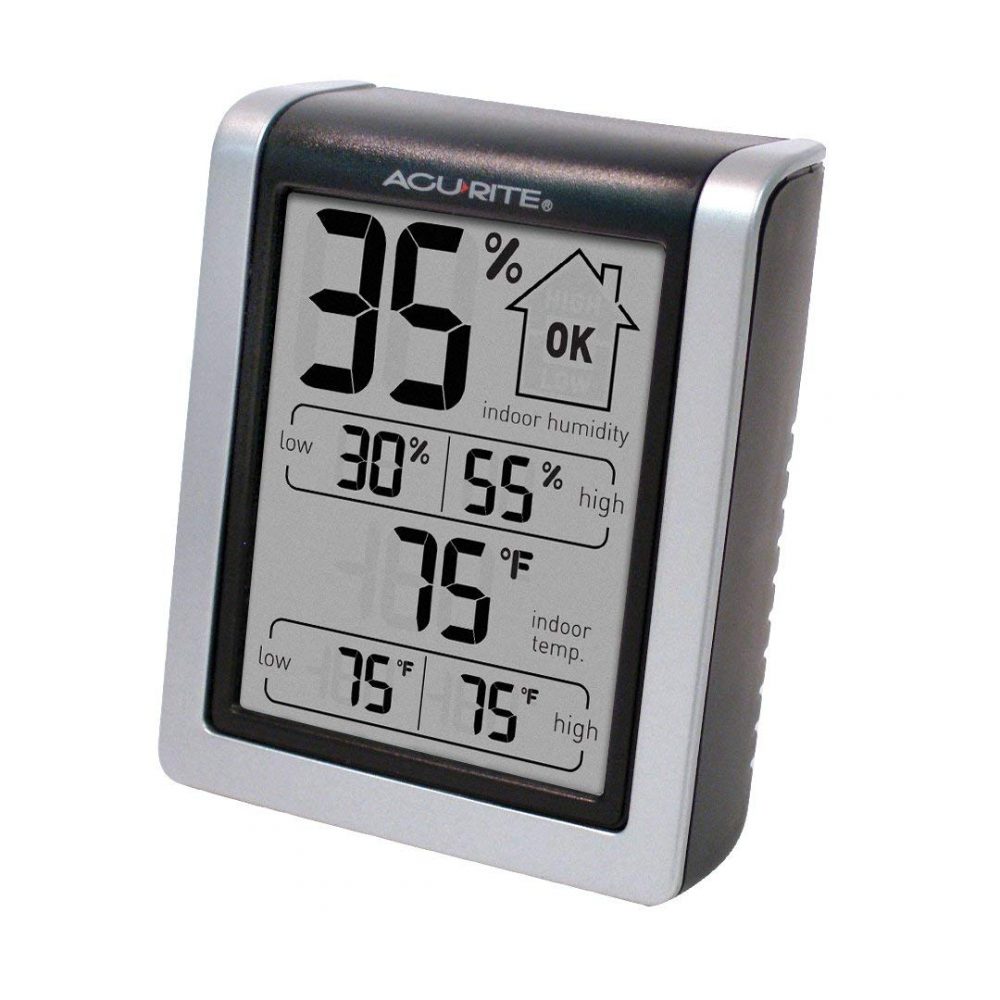 AcuRite 00613 is a battery-powered and reliable indoor digital humidity meter with a thermometer too. This is a very popular humidity meter in online reviews.
The AcuRite 00613 has a temperature range of 32 to 122 degrees F that is accurate within +/- 2 degrees, and the humidity gauge goes from 16% to 98% relative humidity and is accurate within +/- 3%.
This device takes a reading every 15 seconds and shows the high and low records for both temperature and humidity for the last 24 hours. It also gives you an indication of whether the indoor humidity is too high, too low, or just right.
The AcuRite 00613 has a magnetic mounting system and a fold-out stand, and it also features a mounting clip as well.
Pros
Small and portable
Wireless design
Records daily high and low
Multiple mounting options
Reliable magnet for fridge mounts
Accurate in reading
Large screen and readable display
One year limited warranty
Cons
Indoor use only
No remote monitoring
No audible alarm
No additional sensors
Not as accurate as other humidity meters
Click HERE To Check The Current Price And Availability